Rent a Storage Container in Mobile With DefPro.com & Save
When you need highly secure and the lowest price portable storage rental in Mobile nothing beats DefPro Containers. DefPro can usually deliver your mobile storage containers in Mobile within 24 hours and our highly responsive customer service team is here when you need us. We think container rental should be simple, so all you need to do is provide a few details about your job site or storage needs and we can get you quotes in minutes.
How It Works
Let us know what rental you want
Let us know what size (10', 20', 30' or 40ft., standard width or High Cube - HC) storage container rental you want, how long you need to rent it, the zip code that you need it delivered to, and when you'd like it to be delivered. Complete the quick online quote request form or call now to get started.
What Type of Portable Storage Units Can I Rent in Mobile?
DefPro Containers specialized in renting all steel containers from 10 to 40 feet. After they are done moving goods across the ocean, we recycle and rent shipping containers in Mobile to give them a new purpose. While they go by many names including conex containers, ISO containers, cargo containers, portable storage units or sea containers, they are all highly secure and keep robbers, wind and water away from your valuables.
We match you with the best portable storage companies in Mobile
We partner with local portable storage companies in Mobile and match your request to the best local suppliers. They will provide you with fast, hassle free price quotes on the storage container that you've requested via e-mail or telephone.
Choose the best deal
Once you compare the free price quotes from local suppliers you can select the best deal if you like one of their offers (there's no obligation to rent anything). Customers who use DefPro.com to compare quotes when renting a storage container save over 30% on average compared to customers who do not compare prices.
Mobile Portable Storage Container Rental Prices
Below are container rental pricing estimates in Mobile based on past averages of thousands of rentals. Individual price quotes will vary based on distance of your location to the container yard, customization (double sided doors, ventilation, shelving, lights, etc.) and available inventory.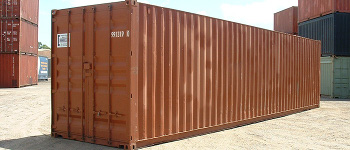 40 ft Container
The most common sized shipping containers for rent in Mobile are 40 ft long with dimensions of 40'L x 8'W x 8'H. They are very large, so they can hold a lot of your equipment on site. Total capacity is 2,560 cubic ft. Average cost for a 40' storage container rental in Mobile is $140 to $180 per month.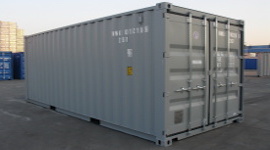 20 ft Container
Dimensions: 20'L x 8'W x 8'H. Total capacity is 1,280 cubic ft. Average cost for a 20' storage container rental in Mobile is $100 to $150 per month.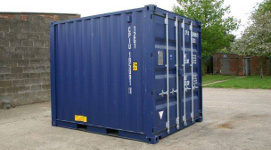 10 ft Container
Dimensions: 10'L x 8'W x 8'H. The smallest size offered is a good option for on-site storage in areas where you don't have enough space to fit a bigger unit. Can conveniently fit in most parking lots and backyards and has a total capacity of 640 cubic ft. Average cost for a 10' storage container rental in Mobile is $75 to $110 per month.

40 ft High Cube Container
Dimensions: 40'L x 8'W x 8.5'H. The largest container that you can usually find. Total capacity is 2,720 cubic ft. Average cost for a 40 ft High Cube container rental in Mobile is $160 to $200 per month.
Why Use DefPro.com For a Portable Storage Container Rental in Mobile?
DefPro Containers is the number one source for customers to rent shipping containers on-line. Our top priority since day one has been to make it easy for customers to find the right container at the right price. Here's a couple reasons that make DefPro.com the ultimate source for container rentals:
High Quality Containers - you'll get a high quality container that's wind and water tight (WWT). Our partners pride themselves on keeping their inventory up to date and in good condition.
Save Time - need a container rental delivered in Mobile later today? With DefPro.com you can compare quotes and even get a mobile storage container rental delivered to your property on the same day. Comparing rates shouldn't take hours or days, with DefPro.com you'll get competing quotes in just a few minutes.
The Lowest Rates - comparing prices from the best suppliers in your area is the only sure-fire way to get the best possible price. We make it easy to compare rates and save. Customers using DefPro.com to compare prices on a portable storage container rental usually save around 30% on their rentals.
The Best Selection of Units - no matter what size and type of container you're looking for, you are sure to find it on DefPro.com.
What condition are the containers in?
By the time they make it to Mobile the containers will have some dings, dents and rust. However the most important thing is that every container we rent in Mobile is wind and water tight (WWT) with water proof seals to keep moisture out. All come with lockable swing out doors, though roll up doors are available on some units.
Does Mobile have any regulations regarding mobile storage units I need to know about?
Before you schedule delivery of your container, your agent will let you know if there are any concerns regarding Mobile policies about renting storage containers. If you are placing the container on a construction site or private property there are usually no ordinances to worry about.
Looking to rent a container in another Alabama city?
We deliver to the following zip codes:
36601
36602
36603
36604
36605
36606
36607
36608
36609
36610
36611
36612
36615
36616
36617
36618
36619
36625
36628
36630
36633
36640
36641
36644
36652
36660
36663
36670
36671
36675
36685
36688
36689
36691
36693
36695

Portable Storage Rentals Near Mobile, AL:
Storagemax Midtown
1061 Government St
Mobile, AL 36604
Teague U Store
521 Bay Shore Ave
Mobile, AL 36607
Available Self Storage Inc
59 Sidney Phillips Dr
Mobile, AL 36607
1st American Storage
902 Magnolia Rd
Mobile, AL 36606
Parkway Storage
2410 Dauphin Island Pkwy
Mobile, AL 36605
Hertz Equipment Rental Corp.
1907 East Interstate 65 Service Rd N
Mobile, AL 36617
Chickasaw Mini Storage
310 N Craft Hwy
Mobile, AL 36611
United Rentals Inc.
1413 Montlimar Dr
Mobile, AL 36609
Mobile Storage Container Hq
3656 Government Blvd Ste G
Mobile, AL 36693
Beltline Stor-all
1268 West I65 Service Rd S
Mobile, AL 36609