Used Shipping Containers: How Much Should You Pay?
When looking at shipping container prices, there are a lot of different factors that can make the price point higher or lower. Whether you are planning on using a storage container for business or personal use, choosing how much you want to and can spend on a unit is important. You want to not only make sure you get a good deal, but that you also get a high quality unit that will provide you with years of use.
Shipping Container Costs
Below is a quick guide for basic prices on used shipping containers. These prices can give you a ballpark of the typical costs associated with buying a shipping container of that size. Do keep in mind that prices can be lower or higher depending on the quality, the age and previous use.
Typical prices are between $2,000 - $5,000 for used shipping containers
Used 20 Foot Container: $2,500
Used 40 Foot Container: $3,500
New containers are much higher in price, typically starting out at $3,500 and move upward from there. Delivery fees, taxes and other charges may also be applicable and are not factored into the initial costs of the shipping container.
Factors Affecting the Cost of a Used Shipping Container
There are 4 main factors that can affect the standard price of a shipping container. Once you begin looking around, you will notice a price difference between not only types of containers, but between suppliers as well. This is because there are a few things that can change the price, such as: age and condition, container size, delivery fees, and how many units the supplier buys from manufacturers.
Let's walk throught these:
1) Age and Condition
The age and condition of the container makes a huge impact on the price of used shipping container. The younger the unit and the better quality, the higher the price will be. A unit that is only 5 years old and is in mint condition will be priced much higher than one that is 20 years old and showing signs of wear and tear.
While new containers are priced higher and offer users peace of mind that they are getting a unit that has never been used before, it is very possible to get the same quality from used container that is certified condition guaranteed. This means the supplier guarantees that while it is used, it is in excellent condition.
Typical costs for new units are not only higher in price but also harder on the pocket. Standard 20 foot shipping containers tend to ballpark around $3,000 for a basic unit while a 40 foot high cube container can retail at $5,000 or more. Depending on the amount of upgrades, the prices can be much higher.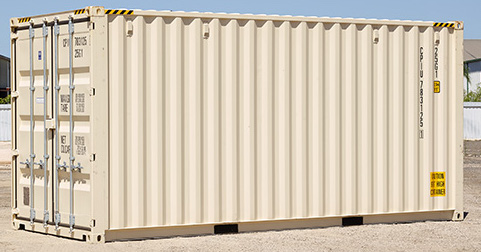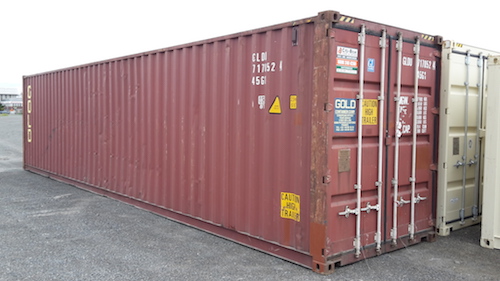 When purchasing a used shipping container in person, it is best to take a good look at all aspects of the unit to ensure you are getting your money's worth:
Ensure the supplier is a high quality supplier in your area.
Check local reviews such as Google or Yelp, or see how the stand with the Better Business Bureau.
Check to ensure all mechanics are in the working order such as the doors, hinges, etc.
Check floorboards to see if they're loose or unstable.
2. Container Size
Shipping container size can greatly affect the price of the unit. Some units offer more headspace and therefore, are more expensive. When comparing, please note the size of the unit as it could offer you more space. These units might be more cost effective in the long run.
Some sizing examples:
For standard 20 or 40 foot containers, width and heights are: 8' x 8'6"
For high cube 20 or 40 foot containers, width and heights are 10' x 9'6"
High cube containers are considered custom size and typically run 20 to 30% more than standard units. Oftentimes, used high cube containers can be found at excellent prices as they are not as commonly wanted.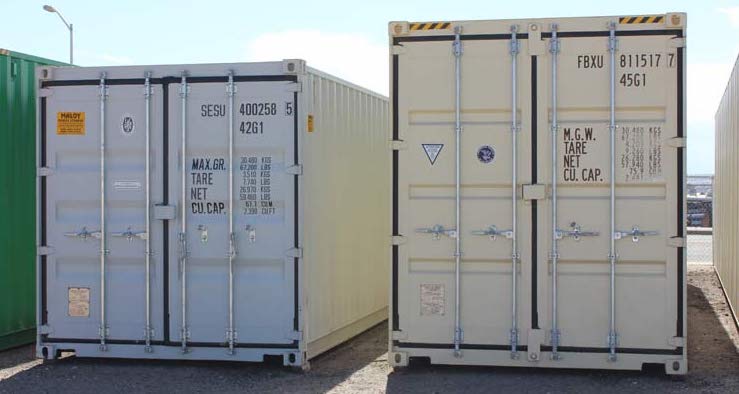 3. Delivery Fee
When pricing out shipping containers, it is imperative to note that the delivery fees are not typically included in the costs. Those are an additional fee that can vary greatly depending on a number of factors such as: size of the unit, where you are located/how far the unit needs to be driven to and whether you plan on leasing the unit and will need a pick up fee as well.
Suppliers of shipping containers oftentimes have their own fleet of semi trucks that can deliver the units right to your home or business. When purchasing from a private seller, please note you may have to look for your own shipping company to not only come and pick up the unit, but to also deliver it where you need. This tends to become very expensive compared to the pricing provided directly from a supplier.
If you are located outside of the delivery area, most suppliers will tack on extra fees as well as if you need the unit at a faster delivery time frame. Typical premium fees are 20-30% more.
To ensure a smooth delivery and to reduce, speak with the delivery company to find out what the required specifications are for their truck to fit on your property. Most require a certain amount of clearance and leveling to ensure they can get in and out without much effort.
4. Storage Container Supplier
While it may be daunting to look at multiple sellers and want to go with the very first one you choose, it is best to compare each one and see what the average price is of a standard unit. See what the suppliers costs are (delivery fee, additional charges) and add it to the price of the unit to see the whole picture of what you may be looking to spend.
While some suppliers tend to mark up their containers up to 35%, that is usually the case if they do not have the containers themselves. Look for a supplier whom you can work with directly to ensure you get the lowest price possible for a high quality container. Some suppliers buy so many containers that their bulk pricing can be passed onto the customer.
Choose The Best Shipping Container
DefPro is here to provide you with excellent customer service with quality containers at great prices. We can help you find what you are looking for as well as provide additional options you may not have thought about. We will provide you all costs associated with the unit as well as any delivery fees necessary to get the unit you need as soon as you need it.